Return to the Hawaiian Independence Home Page, or the News Articles Index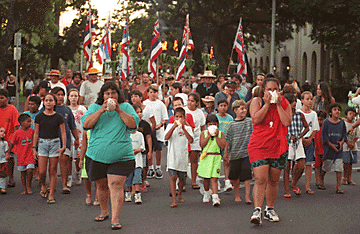 By George F. Lee, Star-Bulletin
Children of Hawaiian ancestry lead the final leg of Ke Kukui
up Mililani Street to Iolani Palace on Monday evening.
Raising of Hawaiian flag over palace stirs emotions
'What if there really is a chance that a nation can emerge?'
Honolulu Star-Bulletin
August 13, 1998
By Pat Omandam
Star-Bulletin
As a non-Hawaiian who is active in the native rights movement, Steve Kubota had a surreal experience as the Hawaiian flag was ceremonially raised over Iolani Palace.
As he watched with nearly 5,000 people yesterday, Kubota described the feeling as waking up from a dream but then realizing it may not be a dream.
"It was a glimmer of reality," he said. "What if there really is a chance that a nation can emerge?"
The noon flag-raising over the palace stirred the emotions of nearly everyone in the crowd. Some cried, others cheered and clapped, and a few whistled.
Mostly, everyone came to see the irony of the event. At noon, Aug. 12, 1898, Hawaii's flag was lowered and replaced with the U.S. flag to recognize Hawaii's annexation. It was reported that most Hawaiians, in support of Queen Liliuokalani, stayed away from the ceremony.
Yesterday, however, the entire palace complex was filled with native people and their supporters, all of whom came to see the Hawaiian flag raised in its place exactly 100 years later.
Huddy Iaea stood under a palm tree near the palace, determined to witness Hawaiian history despite the searing midday sun.
The 72-year-old former Marine and retired machine operator said he had pledged his allegiance to the United States, but in recent years that oath had worn thin as he learned more about the 1893 overthrow of the Hawaiian monarchy and annexation five years later.
"History is dirty," Iaea said. "I've got nothing against America, but they've got to give back the land."
Scott Miller of Waiehu, Maui, who took off from work yesterday as he did in 1993 for the Onipa'a events marking the centennial of the overthrow, said he was again compelled to support the Hawaiian rights movement.
"I'm glad that I came to participate," Miller said. "What is one day of work compared to a once-in-a-lifetime event?"
Also making a brief appearance late yesterday was former Hawaii Gov. John Waihee, who said he wanted to attend the flag-raising ceremony but couldn't make it.
"It's good to see the people coming together, telling the story of the annexation," said Waihee.
Meanwhile, event security escorted a lone protester who carried a large sign and American flag on the palace grounds.
George Avlonitis, 66, said this was his opportunity to inform Hawaiians that they have had several chances to vote on independence and that Liliuokalani herself said she had hope for the Hawaiian people under American rule.
© 1998 Honolulu Star-Bulletin
http://starbulletin.com



Return to the Hawaiian Independence Home Page or the News Articles Index